INFOCENTER PROGRAM
The San Francisco InfoCenter is more than just a travel site. Our goal is to help visitors and area residents find the information they need on  Lodging, Dining, Attractions, Things to See and Do, Relocation information and Other Services including Travel and Transportation, Meeting and Event Planning, Convention Services and Facilities, Computer Services and more.  We also include a Calendar of Special Events and Festivals in the Bay area.
CONTACT US
TO BECOME AN INFOCENTER SUBSCRIBER
OR FOR OUR CUSTOMER SERVICE
Contact: John Zirwes  
Toll Free: 888-298-INFO (4636)
Email
SAN FRANCISCO CHAMBER OF COMMERCE
235 Montgomery Street, Suite 760
San Francisco, CA. 94104
Phone: 415 392-4520
Fax: 415 392-0485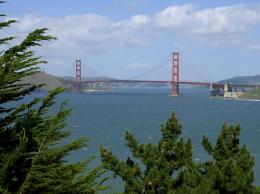 Connect with success at the San Francisco Chamber of Commerce, your link to the people, programs and resources you need to grow your business. Join the more than 1,500 member businesses that benefit from the Chamber's pro-business advocacy, business and professional development programs, and high-visibility events throughout the year. Contact us to become a member today!